Instructions for using Rosetta Stone at MTSU
Rosetta Stone (Version 3) can be used free of charge by all students, faculty and staff at MTSU. All languages taught at MTSU (except Kurdish) are available.
Please follow these steps to sign up for an account to use the Rosetta Stone program and optionally obtain/install the Rosetta Stone client program on your own computer.
1. Sign up for an account to use the Rosetta Stone program
Note: The registration page is only accessible from any computers on campus. No off campus access is allowed!
Please follow the following steps to sign up. Once your registration information is verified, your new account information will be emailed to you within 2 working days (Monday thru Friday).
Contact your professor to obtain a Registration Code for Rosetta Stone;
Collect the following information for registration:

Your MTSU email address;
Your M #;
CRN of the foreign language course you are currently enrolled. Otherwise use 99999.
Registration code from your current foreign language professor. Otherwise use AA2013.


Then, visit this page again to obtain the link to register from any computers on campus.
2. Availability
The Rosetta Stone program is available in the foreign language lab in BDA 303A.
Or alternatively, you can install the Rosetta Stone Network client program on your own computer.
3. Optional: Install the Rosetta Stone Nework client program
If you have a laptop running the Windows operating system, you can bring it to Dr. Jun Da's office in BDA 302 and have the Rosetta Stone program installed.
Please contact Dr. Jun Da at jun.da@mtsu.edu to set up appointment.
4. Start using the program
Launch Rosetta Stone Network Version 3 client program. To login, make sure you use the correct server address (forlang.fsa.mtsu.edu) as shown below: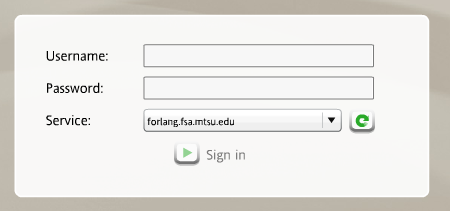 Follow the on-screen instructions to continue.
Enjoy your learning!